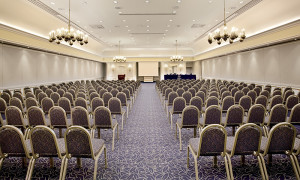 In September, Oikumena organised a big and important event: visit of the delegation of Saint-Petersburg (Russia) to Zagreb. The Round Table and workshops on three topics Education, Tourism and Economics gathered more than 80 people from Russia and Croatia as guests of the Mayor of Zagreb. Here on the picture below are the Russian Ambassador, Mayor of Zagreb and the Head of the Russian Delegation.
Oikumena provided interpreting for all the sessions and workshops during this three-day event. We are proud to say that all the guests were very satisfied with the high professional quality of the interpreting.
But besides interpreting services Oikumena organised hotel accommodation, technical assistance, transport and food during these event. It was a big and complicated logistical job.  From the very beginning I was sure that I can do it! It felt just right-I really enjoy communication with people, stressful and quickly changing environment and speed.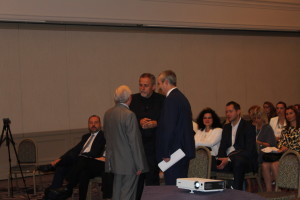 We had long preparations and talks with Sheraton Hotel, transport company and restaurants. But at the end I am very happy  as everything went as it should, all was in order and I gained new experience that I can now use  in the future. The conference hall was great as you can see on the pictures, all the technical equipment was functioning, food was delicious and delivered on time, drivers were punctual and nice. 
From now on Oikumena can offer event management and interpreting services all in one.