Students Recruitment
For young people who want to study in Croatia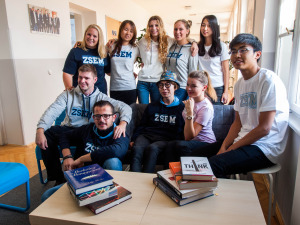 Zagreb School of Economics and Management, the leading AACSB accredited business school in Southeast Europe offers high-quality education in economics, finance, accounting and management .
For Undergratuate Students ZŠEM offers four- year Study with 250 ECTS points
For aspiring business professionals, the Zagreb School of Economics and Management (ZSEM ), offers the following MBA programs in English:
Management
Marketing
Finance and Banking
Human Resource Management
Quantitative Finance
Management of Information Systems
Supply Chain Management
General MBA (120 ECTS points)
(Note: All MBA programs require 60 ECTS points, except for the General MBA program which requires 120 ECTS points)
MBA programs start: March, 2015
Duration of the programs: 12 months (however, students pursuing the General MBA program have up to 24 months to complete their studies if the standard time allotment of 12 months is insufficient).
Application deadline: January, 2015
HOW CAN OIKUMENA HELP?
We will help you fulfil the application forms
We will translate to English or Croatian all the necessary documents
We can organize a trip for you and your parents to get to know school, Zagreb, Croatia

This includes viza support, aeroport transfer, hotel accomodations, meeting with Dean,  excursions all over Zagreb and Croatia.


We help you through the whole year in everyday life (find accomodations, open a bank account, go shopping, travel, study croatian and much, much more)